Market Place Kitchen & Bar
A new restaurant opens up in Woodbury and brings a great vibe to the area. With a bustling bar scene and an impressive array of dishes on its menu, be prepared to wait for a table.
Driving on Route 6 by the intersection of Route 64, we have all noticed the beautiful barn-like structure that has been vacant for some time, but now we have a reason to turn into the parking lot. Touted as a "modern American restaurant", Market Place Kitchen & Bar is just that. Specializing in American farm-to-table cuisine, they regularly update their food and drink menus to reflect what is currently fresh from their farmers. Executive Chef Steve Scarzella uses local and organic ingredients, and restauranteurs Eli Hawi, Ayman Hawi, and Marc Anderson pride themselves on following a progressive approach towards healthy and sustainable foods.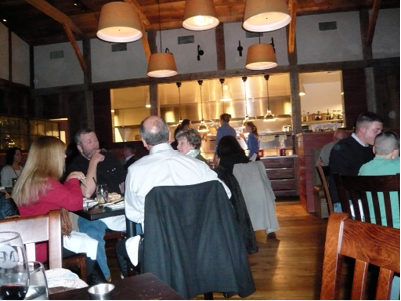 The interior of the space is made of sustainable and local materials, utilizing beautiful 300-year-old barn wood. The large dining area is open to the kitchen and has a friendly, casual feel.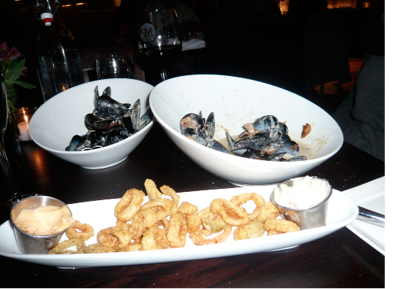 Your meal begins with a delicious and warm crusty bread served with artichoke and roasted garlic butter. The plentiful menu offers up everything from sushi rolls to duck confit, from oysters to shrimp and grits, and that's just the appetizers. "Market Place Boards" include a charcuterie board and a cheeseboard. For starters, they have delicious salads and soups and don't forget to try their flatbreads. For main dishes, choose from house-made pasta to Chicken Marsala, a Fish Fry, and burgers and sandwiches, including a Braised Short Rib Grilled Cheese to die for. Truffle Fries with Aged Parmesan, Fine Herbs, and Truffle Aioli and Chickpea "Fries" with Sriracha Aioli are just two sumptuous offerings on their creative sides menu.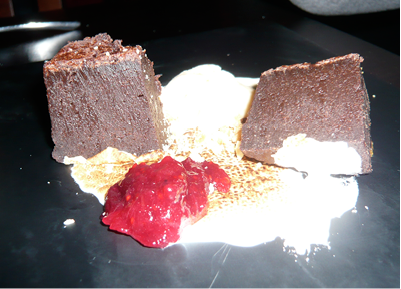 For dessert, try the flourless chocolate cake served with salted caramel gelato and a cranberry compote. So good! The cozy bar area at the front is large, yet fills up rather quickly. Their Cosmopolitans were fresh and tasty. All in all, Market Place is a welcome addition to the neighborhood and is a great place to meet up with friends.