On Our Radar
Faces, places, treasures, and trends that caught our attention
Litchfield Saltwater Grille
With Andy Stowers and Brook Noel at the helm and executive Chef Robert Peotter in the kitchen, this seafood restaurant has become a local favorite, with one of the best bar scenes in the area. 
Sometime last month I went to see a friend's band play at Litchfield Saltwater Grille and expected an evening of great music and potentially lackluster food. To my surprise, the restaurant turned out to be a quality experience from the ambiance, service and cuisine.
The band was playing on the patio and unfortunately it was the first evening when temperatures dipped into the fifties. I was not prepared. One of the staff, whom I later learned is the owner, made a considerable effort to situate a table for me near the solitary heat lamp. Even so, I elected to sit inside—and happy I was—as Andy Stowers and I struck up a conversation about him and his wife Brook Noel's decision to purchase the establishment in December of 2013. I thought this was a rather bold move given the fact that neither of them are restaurateurs and moved here from Wisconsin without any other infra­structure to greet them. Andy was a software executive and Brook is a published self-help author. Their safety net was bringing executive chef, Robert Peotter, with them in order to oversee the restaurant's menu planning and management. Robert has over 25 years of restaurant experience from seafood to steakhouse concepts.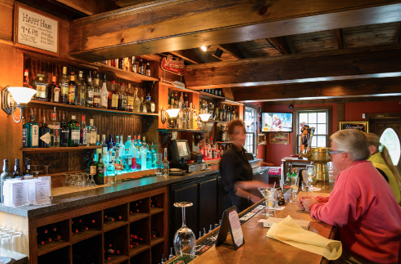 We started with a generous and perfectly executed cocktail while warming our now frigid bones with their  delicious Connecticut clam chowder (a near cousin to New England). It was chock full of fresh clams, fresh herbs that included thyme and dill, with a creamy milky base that wasn't too thick and also delivered a fiery kick. In a word, excellent. We sampled some crab cakes which I must confess needed more crab and a lighter touch. Fish and chips were next and the plate was generously heaped with lightly battered cod deep fried to a crispy golden finish. Fries were piping hot and also just the right texture. The tartar sauce was also a cut above and included fresh herbs and lots of chunky relish. We ordered the SWG Signature Salad and it was, as promised, loaded with cubes of smoky bacon, blue cheese, craisins and slivered almonds.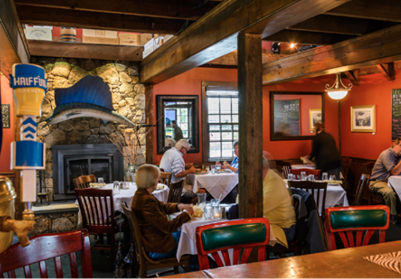 The restaurant space is vast and in addition to the bar and main dining rooms, it features a raw bar and space for private gatherings. I asked Andy what he hoped would be a take away for his clientele he said something to the effect that they weren't looking to create elevated cuisine but to provide quality food in a warm environment with gracious service so customers left satisfied, happy and ready to return on their next night out. It's an honest approach to restaurateuring that if maintained consistently could be the key to their success.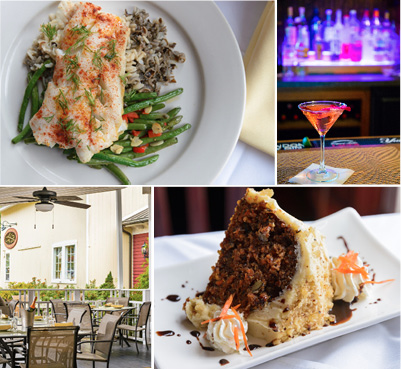 Litchfield Saltwater Grille is open seven days a week, 11:30 a.m. – 9:30 p.m., except on Mondays, when it opens at 4 p.m. until 9:30 p.m. On Sundays, dinner is served all day. The Lounge is open late on Fridays and Saturdays. There are 5 separate dining/lounge areas plus an outdoor patio that can seat 40. Happy hour deals are from 4-6 p.m., Monday through Friday. Their calendar of events includes happy hour, tarot card readings, wine pairing dinners and, of course, live music.